E-bike, why you choose coswheel?
Today I present this exciting electric bike T20. It is selected as the Best Fat Tire E-bike of 2020 among other fat tire e-bikes. So if you want to know a little more about this amazing e-bike, stay there because I'll let you know more about it now:
It is not so simple to promote a new brand to the world. It requires a lot of research to let customers clearly understand who this company/manufacturer is. What products they have, the quality, technical support, all of that is super important for a new brand.
Coswheel is the manufacturer of T20, which was established in 2015. Coswheel is from China, which is the same country where there are installed several companies, even Huawei, and other brands like DJI with drones, BYD with electric buses. They are all brands with super cool products, a technological zone compared today to America. And if there's technology, innovation, and quality, of course, it matches with everyone.
That's why we now bring T20: just take a look at this e-bike.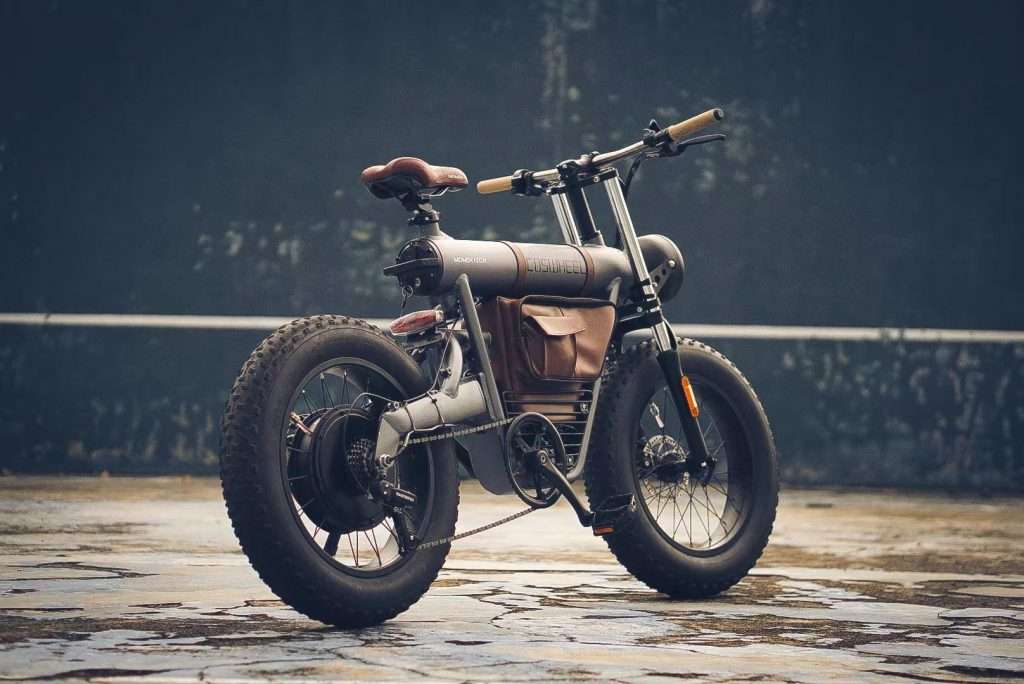 E-bike-NOVEL design!
Electric bike frame
The T20 has a super bold design. Someone even says that it resembles a BMW. Right away we can see that it is a fat bike with a 20 by 4-inch tire rim. Made of aluminum, the frame is also the compartment of the battery, and the soldering all around the frame is extremely well finished.
Just below the frame, there is a small case, and it fits perfectly with your cell phone or a bottle. A very nice accessory that can be installed and which is sold separately is the rear rack. Remember, the T20 bike supports a weight of up to 120 kg.
Electric bike configuration
The T20 bike comes equipped with a daytime running light called DRL. Remember that BMW headlamp that stays on. It's exactly this front light you have on T20. On the back is the traditional brake light and also the right and left blinkers.
The T20's LCD display is a complete onboard computer. It shows current speed, average speed the maximum speed reached on the trip, the battery level, the total mileage, and the mileage of the trip.
The T20's seat is adjustable and is ideal for anyone who is 1.65m or more. And it's extremely comfortable, no need to use those foam caps, one thing is that it has a hook in the back for when you have to lift your bike, making it easy to carry.
And since I'm talking about comfort, let's go for the suspension. T20 has a double damping system: the front suspension that absorbs the first impact and goes down any type of curb.
And the suspension of the frame that absorbs the remainder of the impact during the ride. And this dual suspension together with the fat tire and the comfort of the seat makes the riding experience of this amazing bike unmatched by any other electric bike.
And it's not over! If everything I've already said wasn't enough, T20 is still surprising. With a 500 Watt motor and 48 Volt battery, it reaches speeds up to 45 km/h, and some have managed to surpass that mark.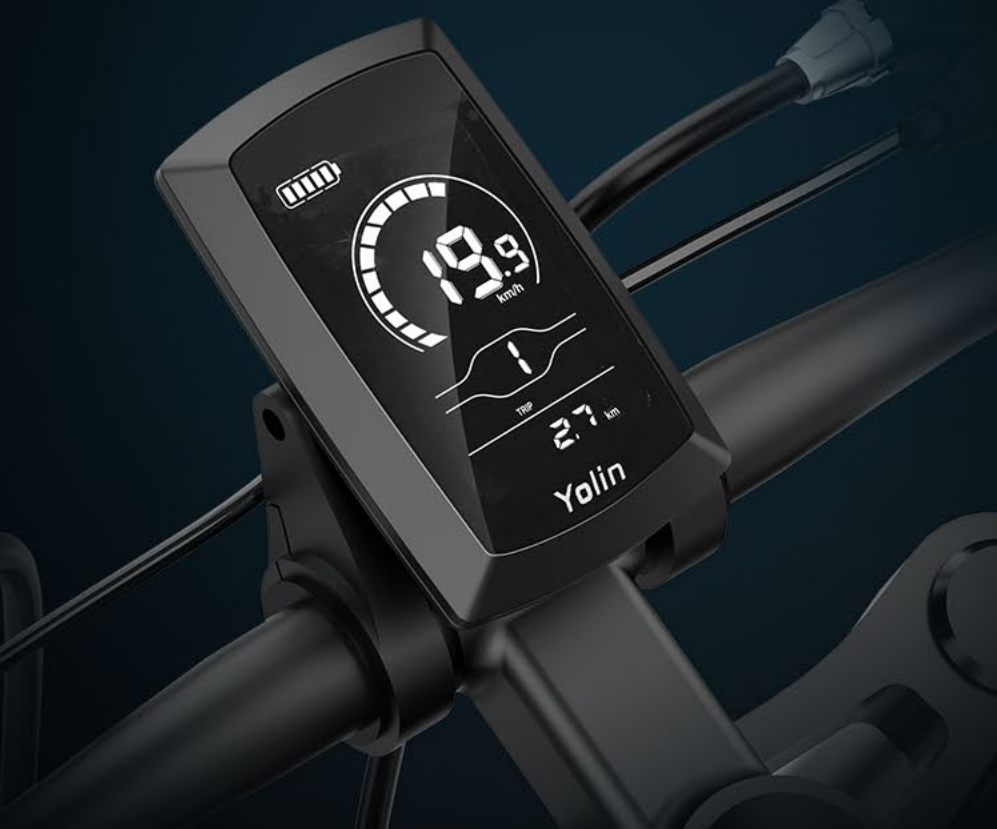 E-bike-riding mode
The T20 acceleration can be triggered in three ways:
One is by the throttle itself.
The other with an assisted pedal.
Or 100% off and it becomes a conventional bike.
In throttle mode, there are 5 speeds set by the LCD panel.
In the assisted pedal function, the T20 offers the 7-speed Shimano gearbox. The speed of each gear depends on a few factors, including your energy, whether it is a slope or not. And also from the initial 5-speed programming.
And 100% off mode displaying zero there on the panel, the speed depends essentially on your physical effort. After all, the T20 becomes a conventional bike. In gear 1 you can ride effortlessly up to 12 km/h. This increases, in gear 2: 14 km/h, in gear 3: 16 km/h. And so on, whoever rides a bike with a gear knows that the higher gears keep getting more difficult, harder, but then you can reach at gear 7 more than 35 km/h with some effort.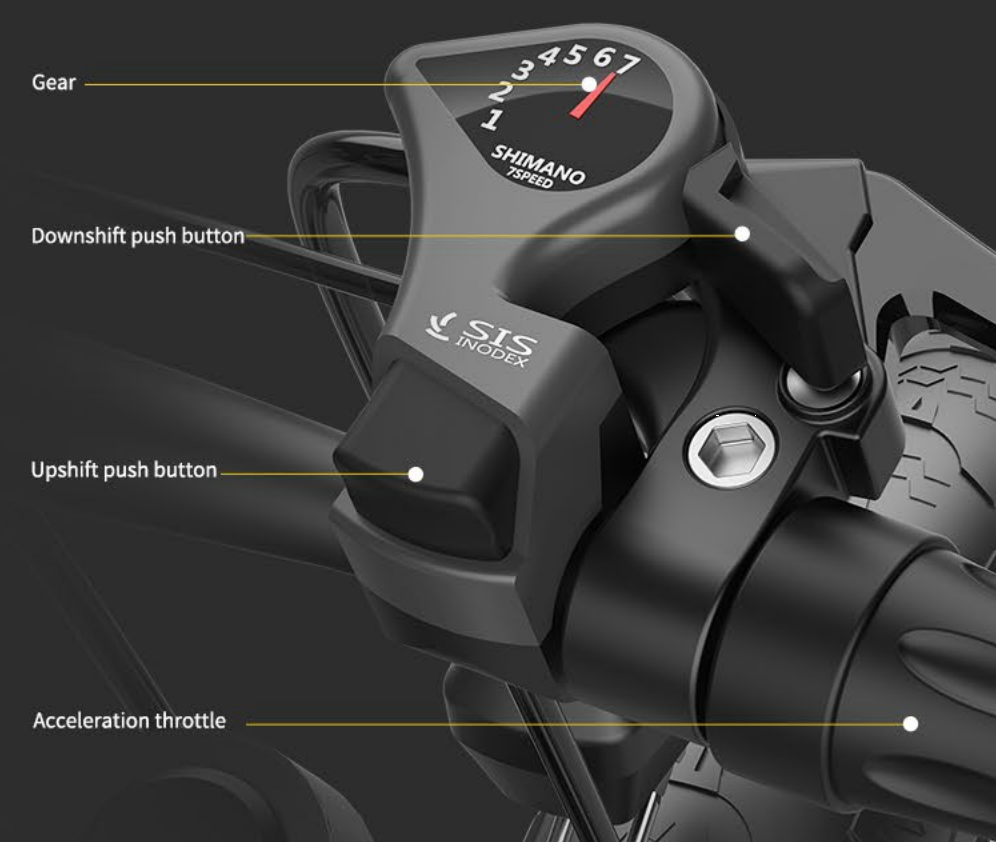 e-bike-battery
The T20 battery, as I said earlier, is stored in the frame of the bike and is removable, locked with a key, in other words, you can remove it any time put to recharge. Afterward, return to the bike so that you can ride in peace.
The T20 battery is available in 3 versions:The 10Ah version, the 15Ah version, and the 20Ah version.
e-bike-range
In the 10Ah version, the T20 offers a range of up to 80 km with a single charge in pedal-assist mode. Note that when we talk about range, we have to always consider consumption factors, the driver's weight, speed, and even slope may interfere with battery consumption.
In throttle mode, the 10Ah version will deliver up to 40 km of range.
The 20Ah version, on the other hand, has twice the range of the 10Ah counterpart, in other words, it can reach up to 160 km of range in assisted mode and up to 80 km of range in throttle mode.
E-bike-fun idea
Look, one of the nicest things about T20 is the countless possibilities it offers for those who want to enjoy a ride. For example, just to get an idea, we're speaking of 5 speeds and 7 gears. When you combine speed 1 for instance which is slower, with gear 7 which is theoretically harder. You have an extremely comfortable, soft performance, you can easily reach 25 km/h.
Or say, you want to sprint and a little more power you can set a higher speed, speed 5 for example, and a slightly lower gear. If you're already tired and don't want to ride anymore, no problem. Just go on the accelerator, and it will bring you comfort. And even if you don't want any help, you want to ride a regular bike:
Turn the motor off, set speed to 0 and your T20 turns into a conventional bike and then you will enjoy the ride.
The last thing I want to tell you, is such a perfect electric bike, why don't you try it?